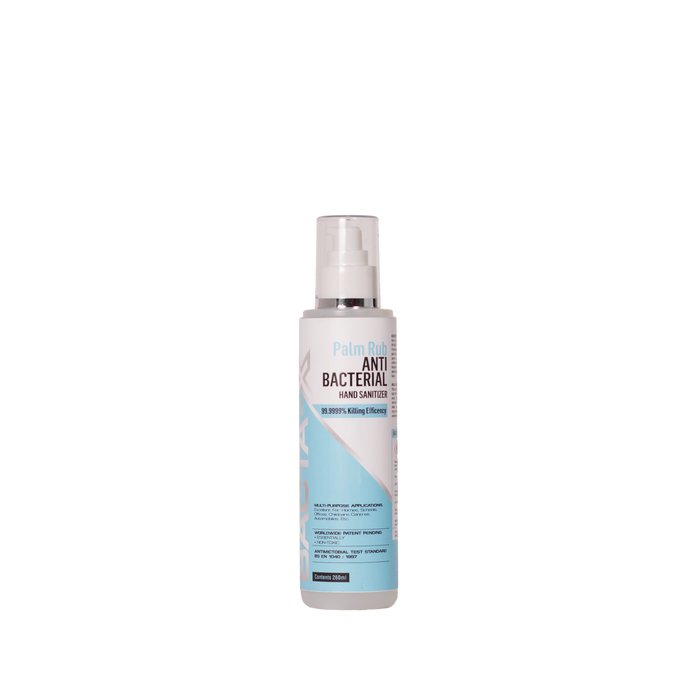 Bacta-X Hand Sanitizer (Liquid)
Bacta-X's Palm Rub antibacterial hand sanitizer (liquid) is a multi-purpose solution perfect for homes, schools, offices, vehicles and more. Our non-toxic formula fulfils the antimicrobial test standards BS EN 1040:1997 and is currently patent pending worldwide.
This sanitizer contains natural ingredients such as aloe vera and Vitamin E, which softens and maintains your skin's condition. Its twin-chain quaternary ammonium compound allows it to kill 99.9999% of germs that come into contact with it.
Common bacteria and viruses that can be killed include salmonella enteritidis, HIV-1, H5N1 and rubella. Kindly refer to our product brochure for more information.
Benefits
Moisturizes and hydrates your hands
Protects skin from damage
Enhance strength of skin barrier
Areas for optimum use
Place the product in areas where there is high traffic flow and sanitation is vital to prevent cross-infection. For example:
reception areas,
gyms,
restaurants,
childcare centres,
and restrooms.
Direction for use
Apply a small amount on your palms.
Rub it all over your hands.
Let it sit for a few seconds while it absorbs into your skin. It should leave a clean and pleasant smell with no stickiness.
Repeat as needed when you have no access to water and soap to wash your hands.
FAQs
How much hand sanitizer should I use?
As a general rule of thumb, a dime-size amount should be used. Our hand sanitizers will leave a non-sticky finish with a pleasant smell.
When should I use hand sanitizers?
You should only use hand sanitizers when you do not have access to soap and water.
Avoid using them when you have chemicals on your hands or when your hands are greasy or visibly dirty.
Are the hand sanitizers flammable?
The hand sanitizers are highly flammable. Stay away from heat, open flames, and hot surfaces when using them.