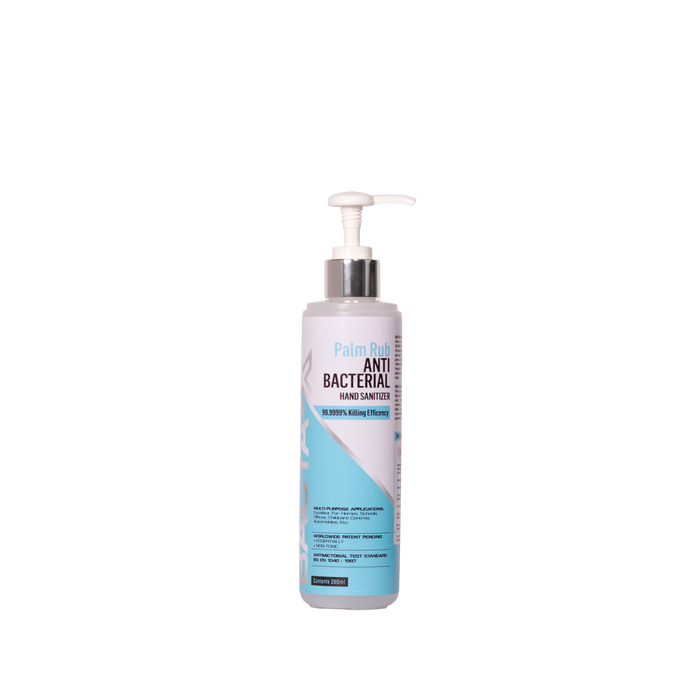 Bacta-X Hand Sanitizer (Gel)
Bacta-X Palm Rub antibacterial hand sanitizer (gel) is made with natural ingredients including Vitamin E and aloe vera. Our non-toxic formula helps to disinfect your hands, while moisturizing them effectively.
This product has been laboratory tested and meets the antimicrobial test standard BS EN 1040:1997. In addition, its twin-chain quaternary ammonium compound guarantees a 99.9999% killing efficiency for common bacteria and viruses such as H5N1, chlamydia psittaci and rabies.
Benefits
Locks in moisture to prevent dry and rough skin
Shields skin from damage
Boosts strength of skin barrier
Areas for Optimum Use
Bacta-X hand sanitizer is worldwide patent pending. It offers multi-purpose applications in homes, offices, schools and automobiles.
For optimum usage, place the product in heavily frequented areas like
childcare centres,
restaurants,
gymnasiums,
and lift lobbies.
These vicinities require timely sanitation to prevent cross-infection.
Directions for Use
Use when you have no convenient access to water and soap to wash your hands.
Dispense a small amount onto your palms.
Spread it around your hands.
Your skin should absorb the sanitizer within a few seconds and leave a fresh smell with no stickiness.
FAQs
How much hand sanitizer should I use?
The correct amount of hand sanitizer to use varies with the size of your hands. It should be able to cover the entire surface of the hands and keep them wet for at least 15 seconds before leaving a non-sticky finish.
When should I use hand sanitizers?
Hand sanitizers should only be used when you have no access to soap and water.
It is not advisable to use them when:

your hands are greasy,
you have chemicals on your hands or
your hands are visibly dirty.
Are the hand sanitizers flammable?
The hand sanitizers are flammable and should be kept away from heat, open flames, and hot surfaces.