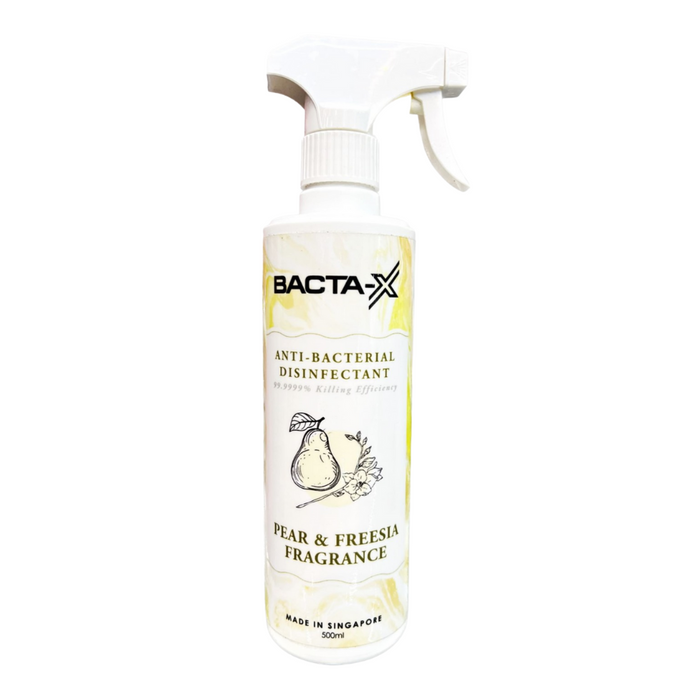 Bacta-X Pear and Freesia Fragrance Antibacterial Air Freshener
Introducing Bacta-X Pear and Freesia fragrance antibacterial air freshener – a delightful synthesis of freshness and cleanliness that will transform your space.
This innovative air freshener and disinfectant spray surpasses the ordinary, blending a fruity and invigorating aroma with potent antibacterial properties for a truly unique experience.

Crafted for versatile use, Bacta-X Pear and Freesia Fragrance Antibacterial Air Freshener is perfect for your home, office, or on-the-go. It provides a family-friendly solution, ensuring a hygienic and aromatic living space that is safe for both children and pets.
Embrace the refreshing fusion of Pear and Freesia with Bacta-X for a cleaner and invigorating atmosphere today!

Benefits
Friendly to the environment

Versatile and usable in various settings

Crafted with non-toxic ingredients

Effectively eliminates bacteria and persistent odours

Directions for use
Hold the fragrance bottle upright, directing the dispenser at the desired disinfection area. After use, securely seal the container.
In accordance with NEA recommendations, regular disinfection every 2 to 3 days is advisable to maintain a clean environment.
Exercise caution due to its flammable nature; keep the product away from heat and open flames. Store it in a cool, dry location for optimal safety.
Production Certification