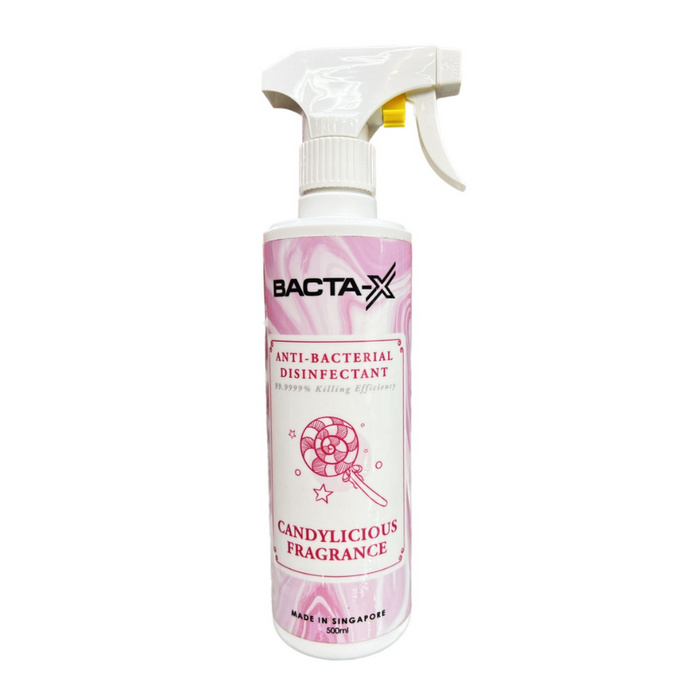 Bacta-X Candylicious Fragrance Antibacterial Air Freshener
Bacta-X's Candylicious Fragrance antibacterial air freshener is the perfect fusion of freshness and hygiene! Elevate your surroundings with the delightful scent of Candylicious while ensuring a germ-free environment.
This innovative air freshener cum disinfectant spray goes beyond ordinary fragrances, combining a sweet and invigorating aroma with powerful antibacterial properties.
Whether it's your home, office, car or any other space, our disinfectants are designed for versatile use. They are safe to use around children and pets, providing a family-friendly solution for a hygienic and fragrant living space.

Benefits
Environmentally friendly

Suitable for various settings

Formulated with non-toxic ingredients

Eradicates bacteria and eliminates persistent odours

Directions for use
Ensure the fragrance bottle is held upright, directing the dispenser toward the targeted disinfection area. After application, securely seal the container.
According to NEA recommendations, it is advisable to disinfect your space every 2 to 3 days.
Given its flammable nature, exercise caution by keeping the product away from heat and open flames. Store it in a cool, dry location.
Production Certification